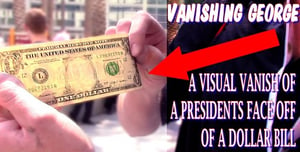 $

4.00
Learn how to vanish the face off of a dollar bill.
Video tutorial coming soon. DOWNLOAD SENT TO EMAIL.
Have a dollar examined. Placed into the spectators hands and when they open it up, the president is gone! OR Have it visually vanish in the magicians hands in full view or with a quick wipe of the hand.
-Examinable
-No Bill Switch required
-One time gimmick which costs $1 to make!
-Packs flat in your wallet or pocket
-resets in seconds
Performance Video : https://www.youtube.com/watch?v=TxUsU_hoCMY